Colinian Renewal 2020
We congratulate our 2 priests and 2 brothers, Frs Brian Sigere, Kelekolio Misiloi, Brs John Votaia and Andrew Wetara, who were participants in the Colinian Renewals 2020. Together they have successfully endured the effects of the Covid-19 even though the group was deeply affected.
The Oceanians are in Rome where they will be hosted in the General House while awaiting their return. Praying for available flights and a safe travel back home to Oceania.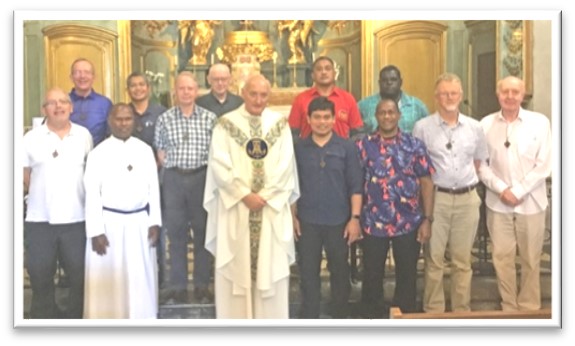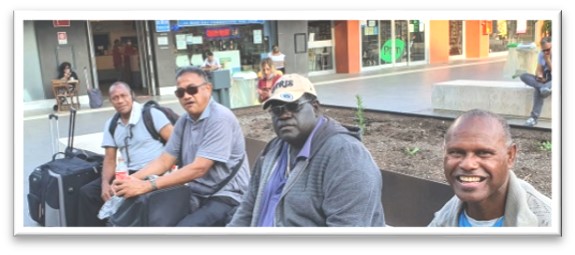 South New Caledonia prays
While the Covid-19 continues in its devastating path, a day of recollection for the South Community of New Caledonia was led by Bishop Ghilain de Rasilly sm. The Bishop is a member of the community together with Bill Herket (sector delegate), Mika Tuilau, Visesio Teugasiale, Antoine Tamaraka, Neil Soucy, Jea-Yves Caillon, Bernard Gidrol and Francois Grossin.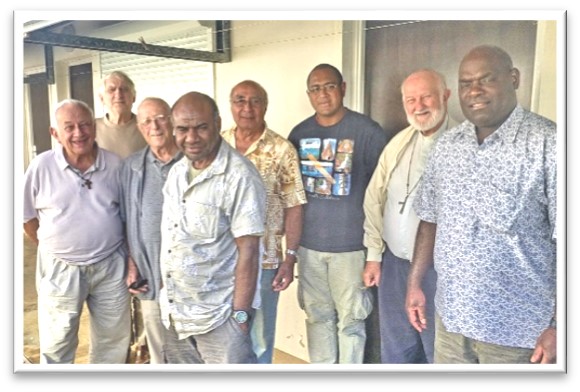 Hospitality and new normal - Ports Moresby
The Hohola community, Fr Wesley Manu and Br Elia Sawesawe, and the parishioners hosting the Bishop of Bereina Diocese, Bp Otto Separy. Our second SM community in PNG is in Bp Separy's diocese. The new normal is the improved quality of hygiene. Fr Wesley reports that "Poverty-19" is part of this new normal due to Covid-19, and with marked increase in gender and domestic violence.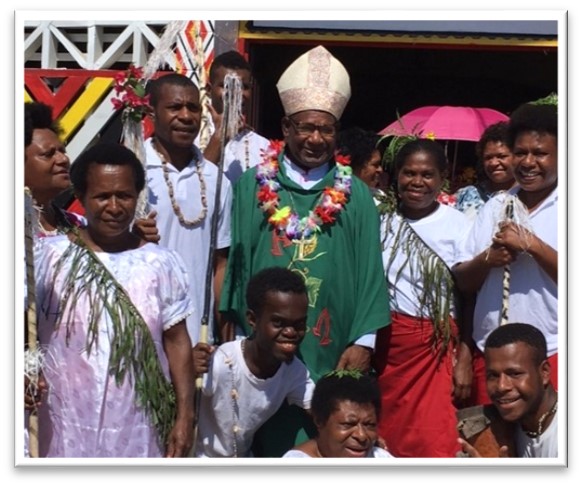 Dawasamu Eco-centre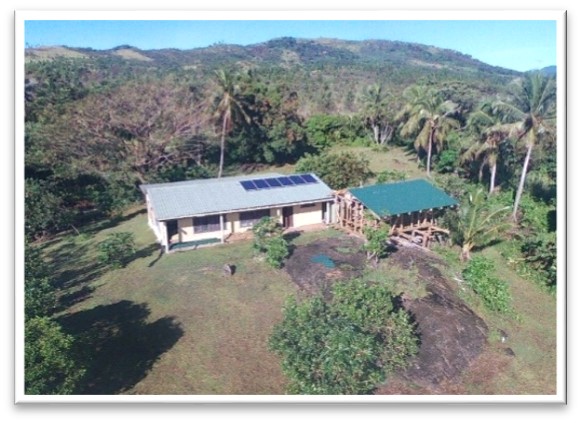 The Superior, Fr Donato Kivi, with Marist college students continue to develop and promote ecological projects, both at the college and at the holiday place, Dawasamu. At the college are perma-culture gardening and waste management. At Dawasamu is the ecological center. Gratitude to MMC for the 1.5 kW Solar project for the center.
St John's College, Cawaci and Covid-19

Schools in Fiji are finally allowed to recommence by June 6. Students, before taking the 4 hour trip by bus and boat were screened and enrolled at the Cathedral crib by personnel from Health ministry and the school's board and ex-students. Parents were saved the expenses of the trip to the school for enrolment through this Covid-19 process.
'Api-fo'ou College after Cyclone Harold

'Api-fo'ou college, Tonga continues its rebuilding during the Covid-19 and after Cyclone Harold. They also embarked on creating a botanical garden around the school property for beautification and natural protection. The school outer community helped in bringing in varieties of planting materials. Sandalwood was a popular choice among many others.
A new farming technique - Tutu

During Covid-19 Tutu Rural Training Centre (TRTC) was able to develop a new farming technique by building a farm tunnel house for the off season vegetables. "It is another door," they said, "for food security as well as generating income for TRTC and for families. It helps farmers to move away from being a subsistence affluence into commercial agriculture." This new idea was initiated by the SM Lura community, Tutu. A new venture for food development unit is underway with the use of breadfruit flour for bread.
Congratulations

| | | |
| --- | --- | --- |
| | | |
| Fr Sione Vave sm graduated with a Licentiate in Safeguarding from the Gregorian University Rome. | Fr Kosma Masei sm graduated with a Licentiate in Missiology from the Gregorian University, Rome. | Deacon Floyd Gatana sm graduated with a Licentiate in Ecumenism from the Angelicum University, Rome. |
| | | |
| Br Benedito Gonetabu sm (center) celebrated his 70th and 42nd of profession. | Bishop John Bosco Baremes sm celebrated his 60th on June 30 | Frs Boniface Kevon sm & Anthony Nawata sm celebrated silver jubilee of ordination and Fr Steven Posirou sm (right) of profession. |