| | |
| --- | --- |
| RIP Fr Francois Xavier de Vivies sm (New Caledonia) | RIP Fr Petero Nauca Tagidrau sm (Fiji) |
| | |
| Funeral: 29 May 2018 | Funeral: 31 May 2018 |
BIOGRAPHIES OF THE DECEASED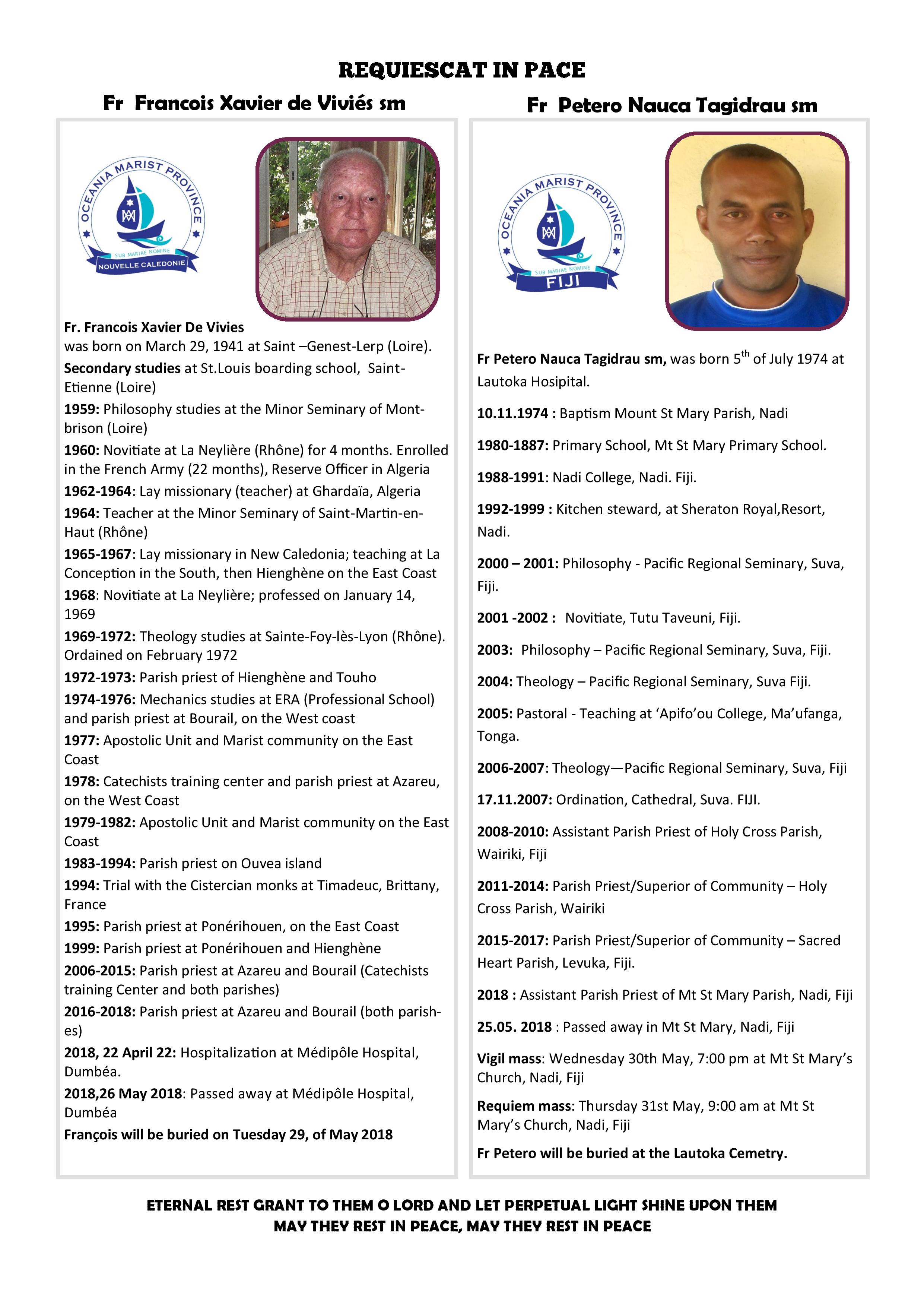 From the Funeral of Fr Francois Xavier sm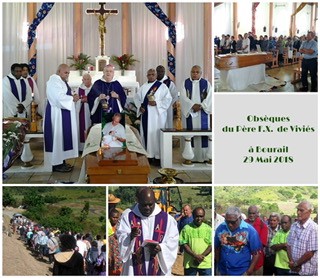 From the Funeral of Fr Petero Tagidrau sm
VICAR GENERAL OF THE ARCHDIOCESE, FR JULIO, PRESIDED ON THE REQUIEM MASS OF FR PETERO
FAREWELL TO FR PETERO FROM THE COMMUNITY'S HOUSE BY THE FAMILY AND CONFRERES
WECOME BACK REV DR DONATO KIVI SM

The Provincial and Marists around the Suva area gathered at Raiatea to welcome Rev Dr Donato Kivi sm back to OMP. Donato's parents and his brothers and sisters were also present. It was a joyful celebration not only for Donato, but also for his parents and family, Fiji Sector, the Province and the Society as a whole. His Thesis is: Towards a Marian Ecological Spirituality for the Formation and Re-evangelization of the Vanua: The People and the Land of Fiji.
Donato will take up his appointment as the Superior and Formator of Marist College, Suva.

| | | |
| --- | --- | --- |
| | | |
| | | |
LAUNCHING OF FIJI SYNOD - PENTECOST SUNDAY, 20 May 2018
"CONNECTING WITH JESUS"
After 27 years since its last synod, the Catholic Church of Fiji through the leadership of Archbishop Peter Loy Chong, launched its synod year with an Eucharistic Celebration at the ANZ National Stadium in Suva on Pentecost Sunday, 20 May 2018.
The Theme for the synod is "CONNECTING WITH JESUS". To be connected in Jesus is to take on the mission of the historical Jesus.
The two main focus of the synod, according to Archbishop Peter are:


The need to update people on the cur­rent teachings of the Church
Reflections on social problems, political problems, all forms of violence, the impacts of cli­mate change and globalisation.

"During this year, we will be holding semi­nars around various groups in Fiji with youth, women and men."

"Next year we will have a meeting and will formulate our plan for next short term and long term plans," he said.