Marist College: renewal of vows, conferral of ministries
On Sat, Oct 29 some of our seminarians took another step in their formation journey. All candidates for priesthood need to receive the ministries of Lector and Acolyte. Fr Ben, the provincial, and his council, came to Marist College for the celebration.
Joseph Tora and Humphrey Leoi were installed as lectors.
Mika Misinale and Maselino Kolio were installed as acolytes. Mika and Maselino are about to go on their Marist Mission Experience for the next year. Mika from Tonga, has been appointed to the Hohola Parish in Port Moresby where he will teach in the La Salle Technical College. Maselino from Samoa, has been appointed for two years to work in the parish of Kanosia.
As well Peter Puamae from Year 6 renewed his vows. The two witnesses for his profession were our two Marist deacons: Louis Maite Melsul and Lutoviko Olie. The rest of the professed community will renew their vows on Nov 06.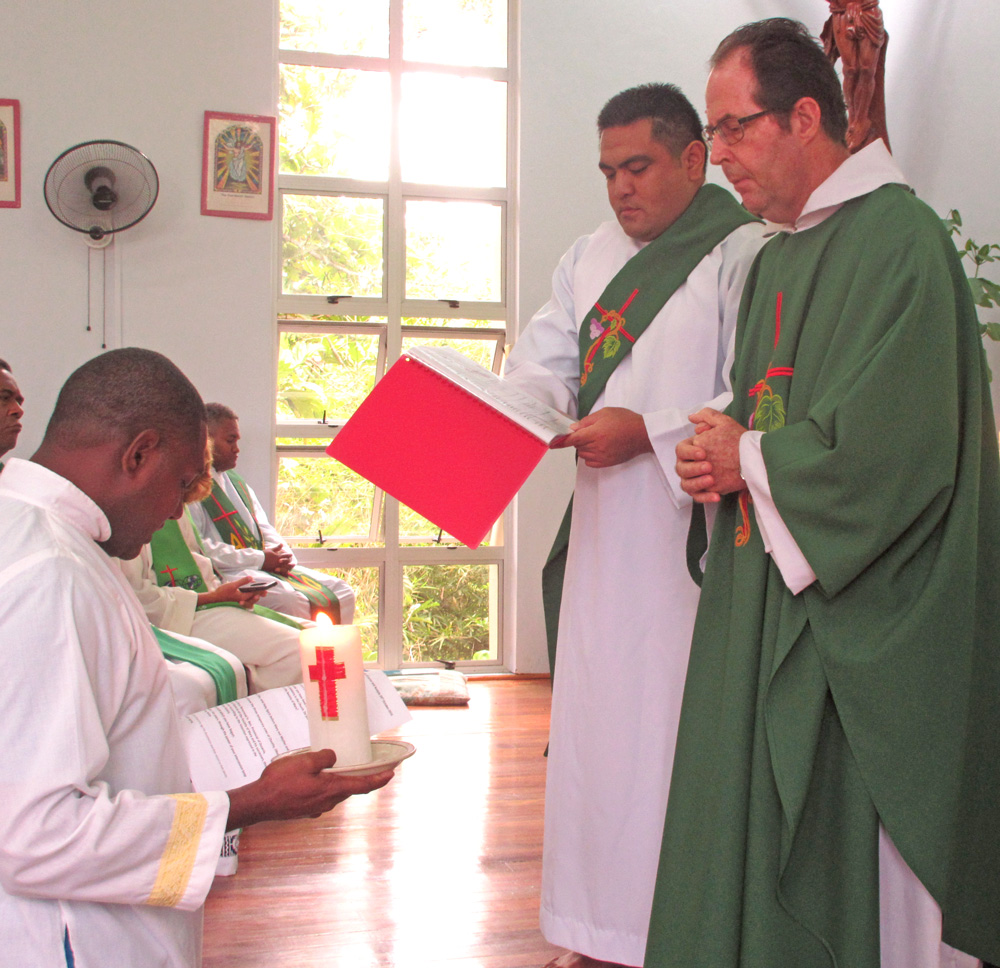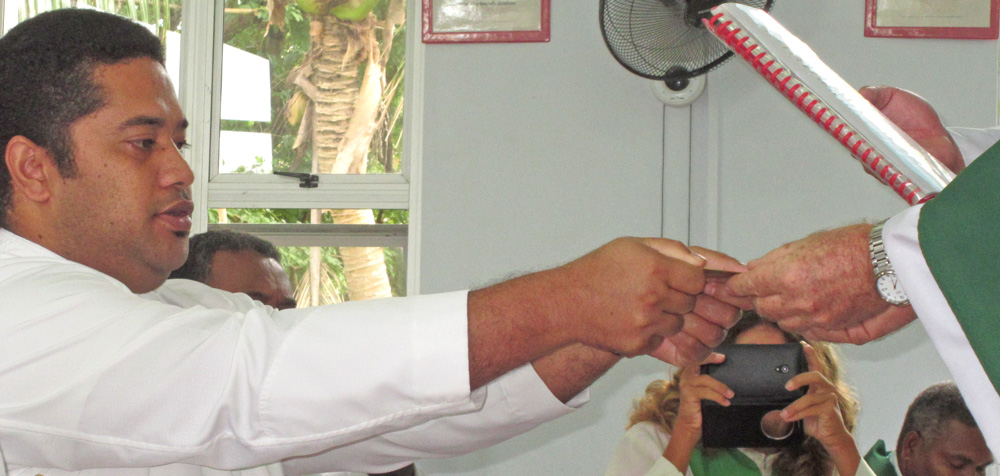 Above: Peter Puamae renewing his vows. | An acolyte receives the paten from Fr Ben.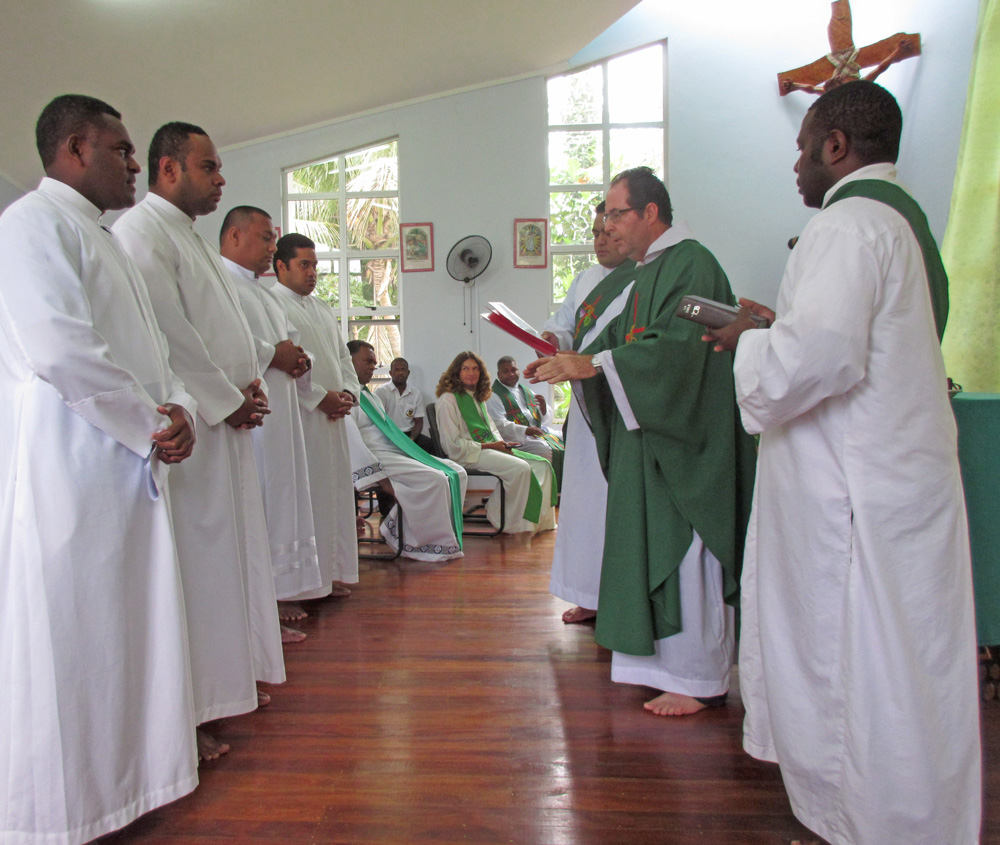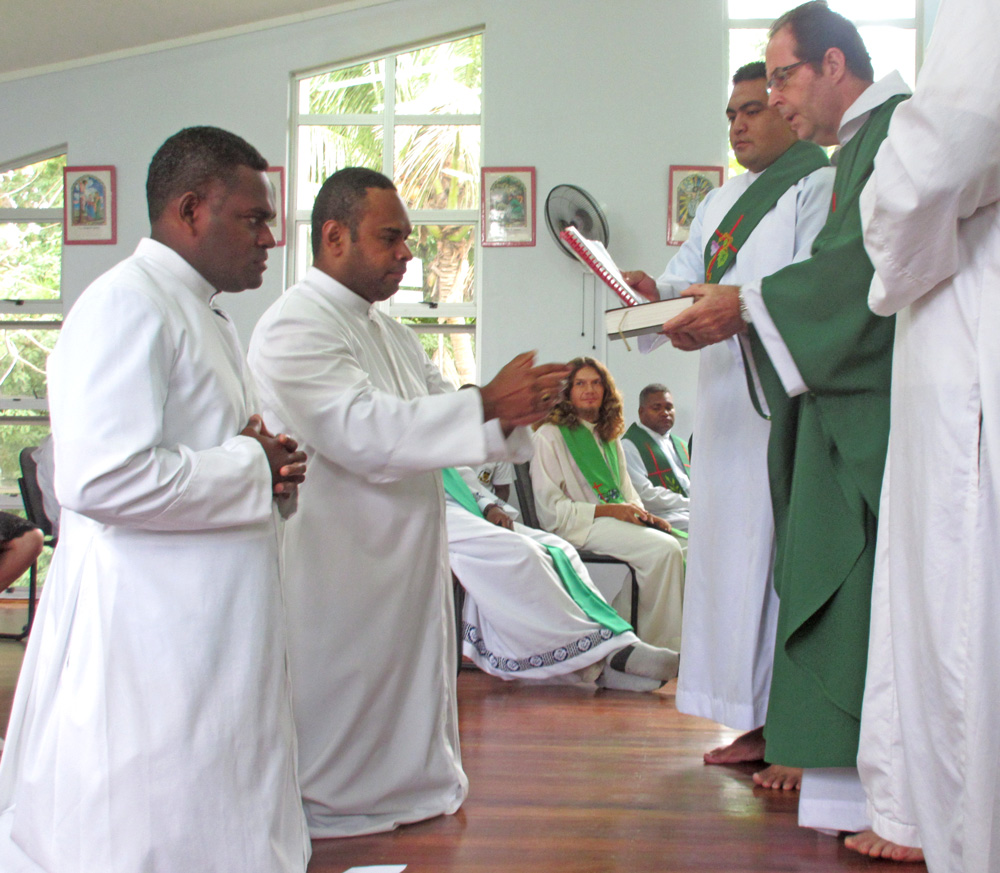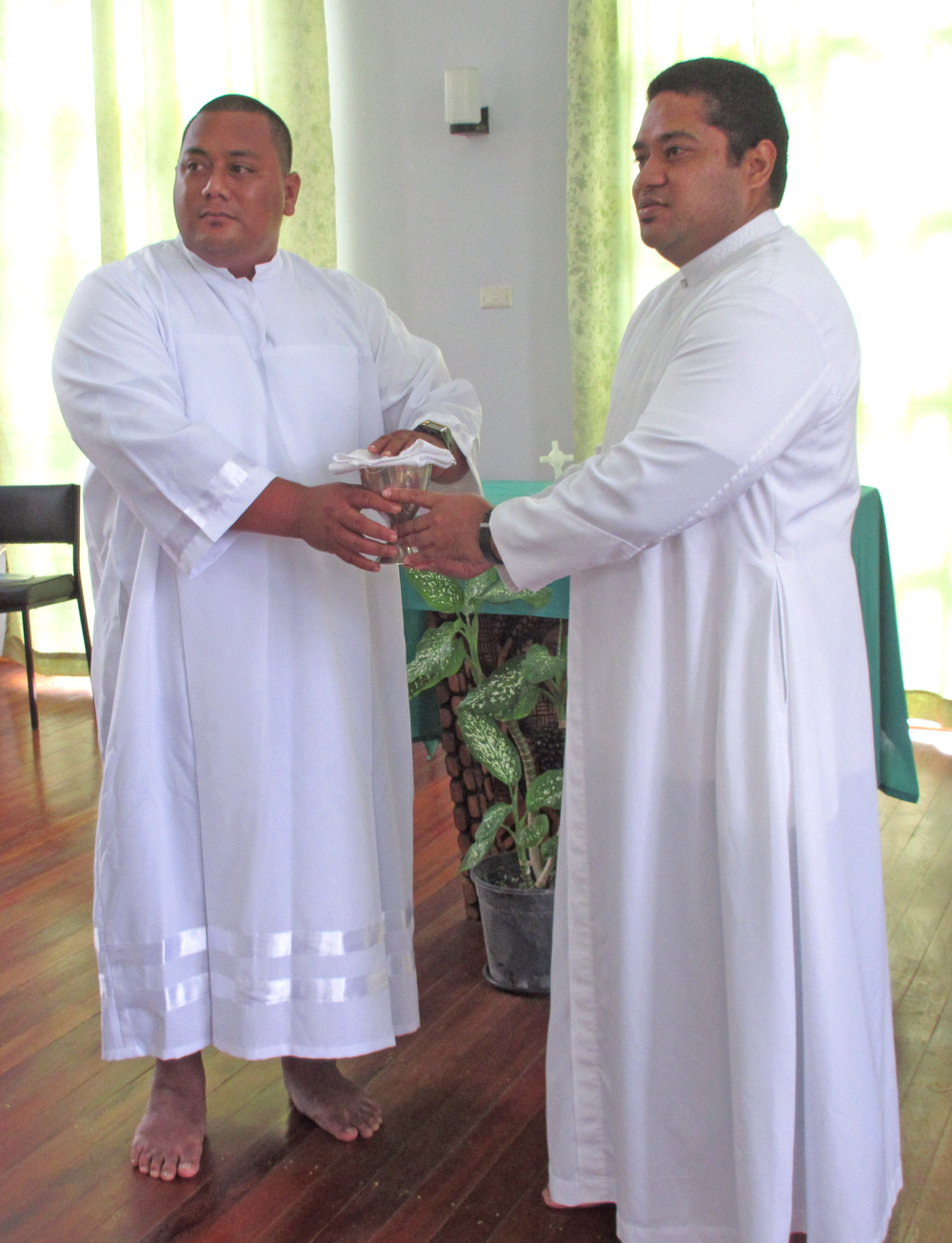 Above, from left: Humphrey Leoi, Joseph Tora, Maselino Kolio and Mika Misinale, then Frs Lutoviko, Ben and Louis. | Joseph Tora receiving the book of the scriptures from Fr Ben | Maselino Kolio (Samoa) and Mika Misinale (Tonga)
Confirmation at St Louis - Mont Dore
During the October school holidays some 40 youth of St.Louis-Mont Dore parish received the sacrament of Confirmation from Archbishop Calvet assisted by the parish priest Fr Joséliot Molse and Fr Kosema Masei, a member of the Vocations promotion Diocesan Service which was running a 3-day Vocation for 17 young boys. No break for the Holy Spirit!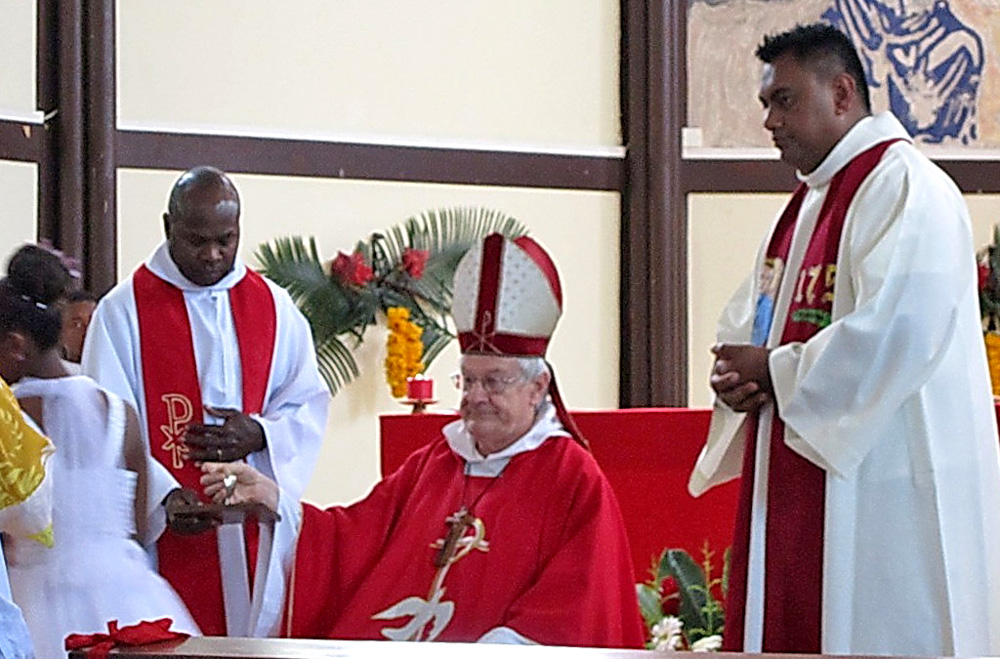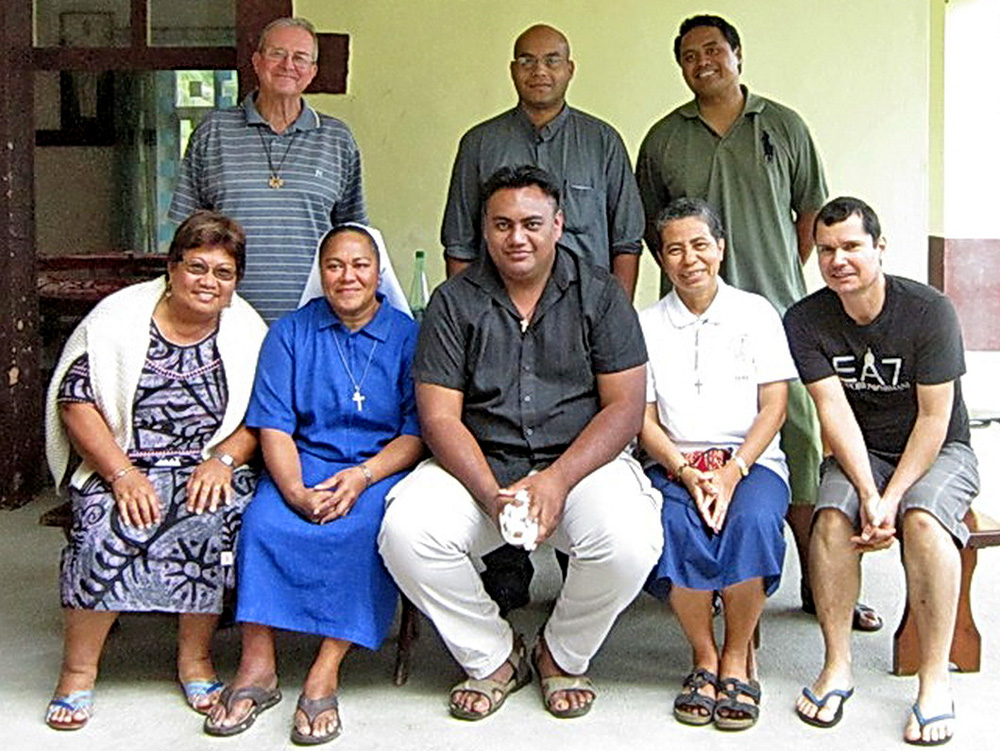 Above: The Vocation Promotion team; Fr Kosema (front, centre)
Happy 90th birthday, Br Clement!
The celebration of 90 years of Brother Clement Bonhommeau at Kolopelu, Futuna, was held on the 11th October. He is the only expatriate with P. Jaupitre left in Wallis and Futuna.
Br Clement left France by boat on 12th February 1956 and arrived in Wallis on 4th November of the same year. His first appontment was to Malaetoli where he builted the school. Then in 15th May 1974 he was appointed to Futuna till now. He is well know to the people as a builder, mainly schools. Very much appreciated by the people for his fidelity to his vocation as Marist.
On his birthday, Fr. Suni orgainised a Mass of thanksgiving where the King of Alo, Tuiagaifo, and five other chiefs were present. P. Kapeliele, director of the Shrine of Peter Chanel was the main celebrant and P. Suni gave the homily. One of the parish choirs, Ono, sung the mass.
After Mass followed by a simple meal prepared by the community of Kolopelu.We are grateful to Br. Clement fidelity to his vocation as Marist for 59 years of presence in Wallis and Futuna and we pray for more years of good health. Joyeux Anniversaire, Frère Clement!
Ordination of Xavier Sariman SM
Xavier Sariman was ordained to the priesthood, at the Marist parish of St Vincent de Paul, Kanosia, Bereina Diocese, PNG, on Oct 01. He is the first Marist to be ordained from this parish, diocese, and mainland PNG.
Above: Xavier with his parents Patrick & Maria. | Laying on of Hands by Bp Rochus Tatamai MSC.
Below: Part of the Kanosia congregation.

Below: After his Mass of thanksgiving with fellow Marists [Austin Magara, Steven Lugabai, James Mokela, Setefano Mataele, and Vaioleti Tuione] and others. | Hohola Community, Port Moresby.
Born in 1979, Xavier began studies in Bomana in 2008, was professed in Tutu in 2010, and completed his theological studies in Rome, 2015. He has done his pastoral preparation in both Kanosia and Hohola PNG.