Final profession and Fourvière celebrations at Tanagai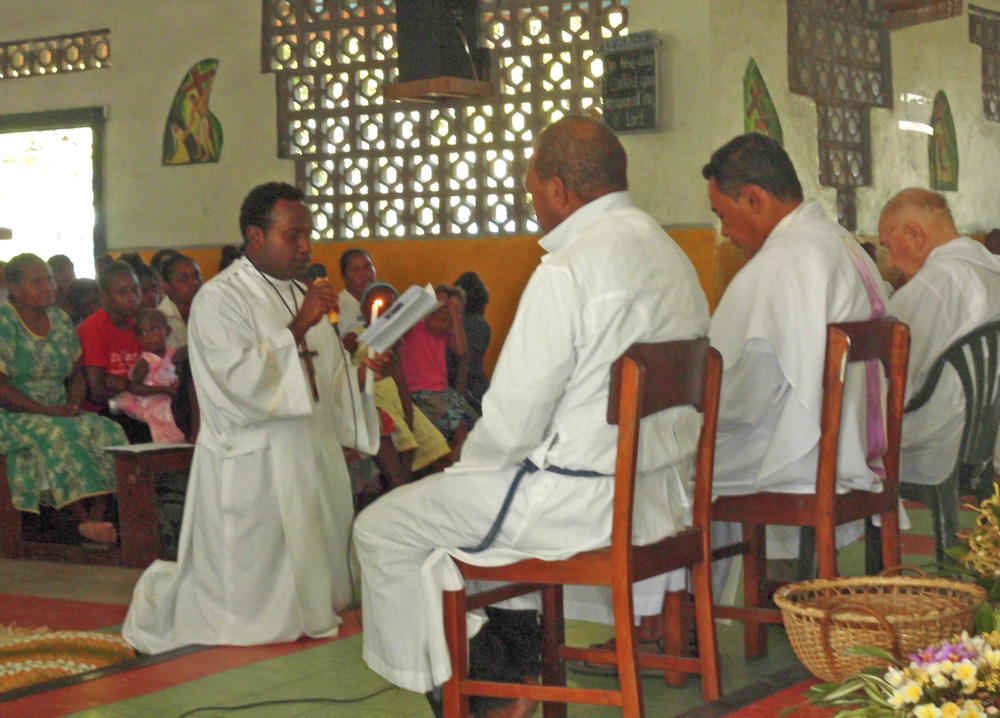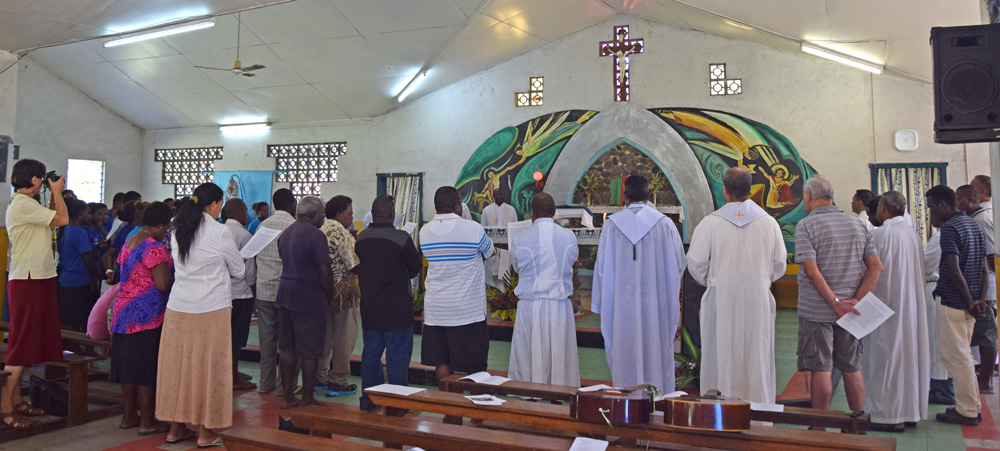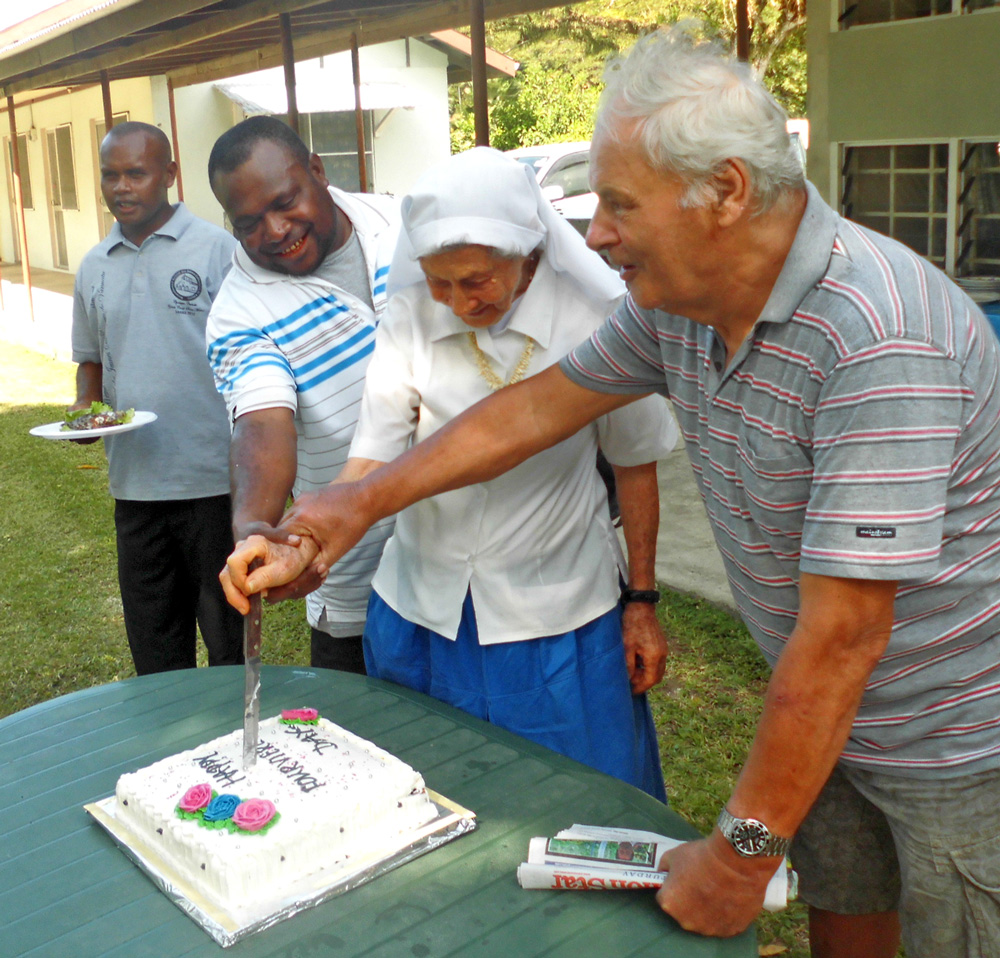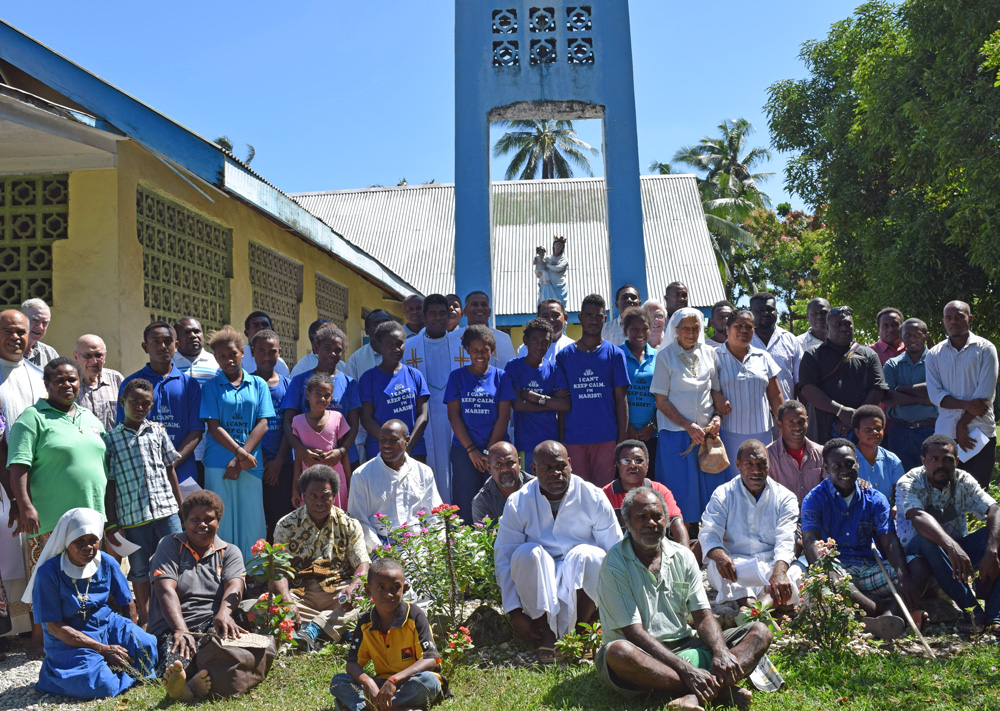 Humphrey Karua taking his Vows in front of Fr Lutoviko Manu sm Regional Superior. Witnesses: Br Henry Aragalia sm [on the left], Fr Seibo Leppen sm [on the right]. Humphrey is from Malaita Solomon Islands, and did his seminary studies first of all at Holy Name Diocesan Seminary, Solomon Islands, then joined the Marists after two years, and has been with us for eight years now - completing his studies at Marist College Suva. He is currently appointed to the Regional House Community, Tanagai, Solomons, and also does Pastoral Work in our Marist Parish there at Tanagai.
Humphrey Karua [on the left, cutting the Fourviere Cake, with Sr Teresa smsm, and Br George sm] made his Perpetual Profession on 24 July. Vows were received by the Regional Superior, Fr Lutoviko Manu sm, whose words are below:
All the Marist family including the laity came together on Saturday to commemorate and celebrate with joys and thanksgiving the bicentenary of the Fourviere Pledge. Posirou was the main celebrant and Robert Taria gave the homily. After Holy Communion we all stood around the altar and recited together the pledge sent from Rome. I took out the common response. At the end of the mass a representative from each congregation shared the meaning and importance of Fourviere for them. Philip Kanai represent us and he spoke well. Entertainment and feasting followed and it was a joyous occasion with many generous benefactors contributing. It was heartening to see Sr. Theresa SMSM (93 years old) Siebo (88 yrs old) George, Bishop John and everybody enjoyed the day.
The joys of the Fourviere celebration continued on yesterday with the perpetual profession of Humphrey Karua. His parents were not here. His father is still sick but his brother and relatives were all here and the parishioners to witness Humphrey making his perpetual profession. Most have seen an ordination to diaconate and priesthood but not a final profession. I asked Siebo and Henry to join me in receiving Humphrey's perpetual profession. I emphasized that we are called first and foremost to be Marist and our Marist spirit and charism is to be reflected in our religious life and ministry as brothers and priests. Once again, more entertainment and feasting followed later in the evening. The family and relatives turned up in big numbers and it was a wonderful and joyous evening. Humphrey is a cousin of Frs Sam Maetara and Richard Harui.
Our confreres from Dala returns today in the evening and Wainoni later on Wednesday. It has been wonderful weeks for us here in the Solomon. We were all here to celebrate and to rejoice with Denis his ordination and together again for the Fourviere celebration and the perpetual profession of Humphrey. I am truly grateful for the confreres for availing themselves to be here in all these celebrations. People commented there is joy and fraternal love among the Marists and I sincerely hope we will continue. I was interviewed on SIBC (Solomon Island Broadcasting Commission) about the importance of Fourviere to us and was also part of the news bulletin. Hopefully it will open hearts of young people to Marist religious life.
Final vows and diaconate for Paul Molbwet, Vanuatu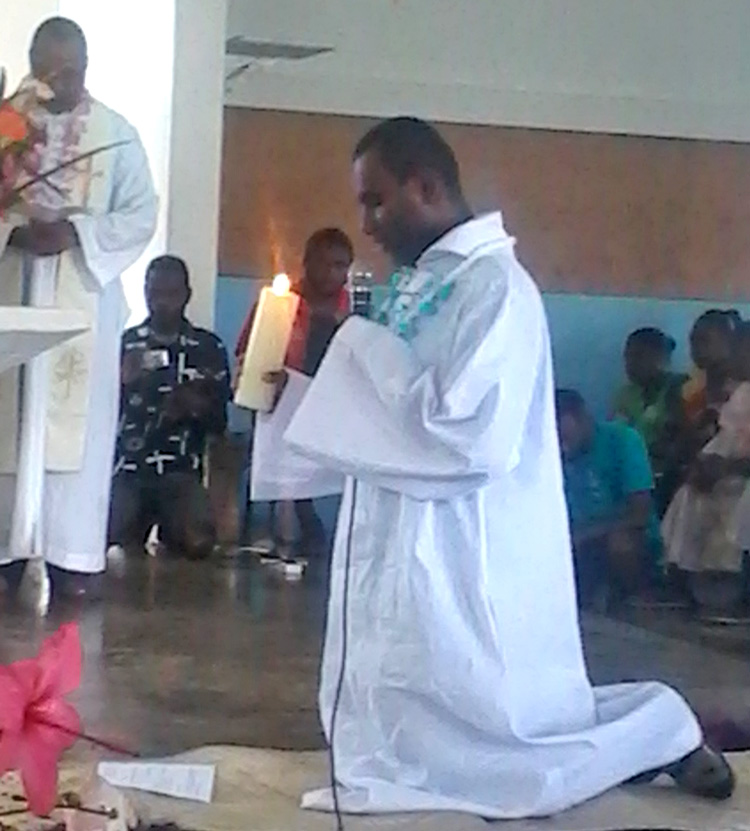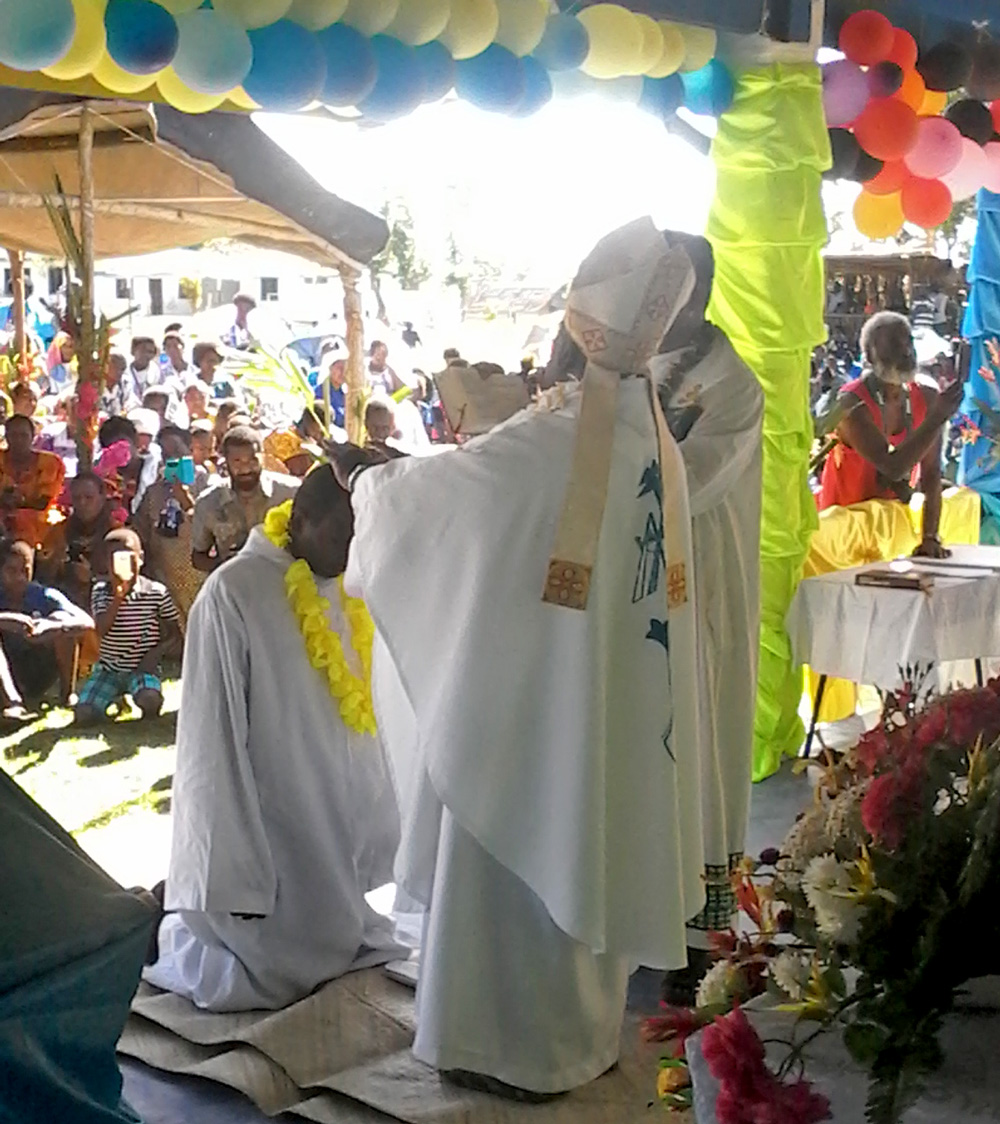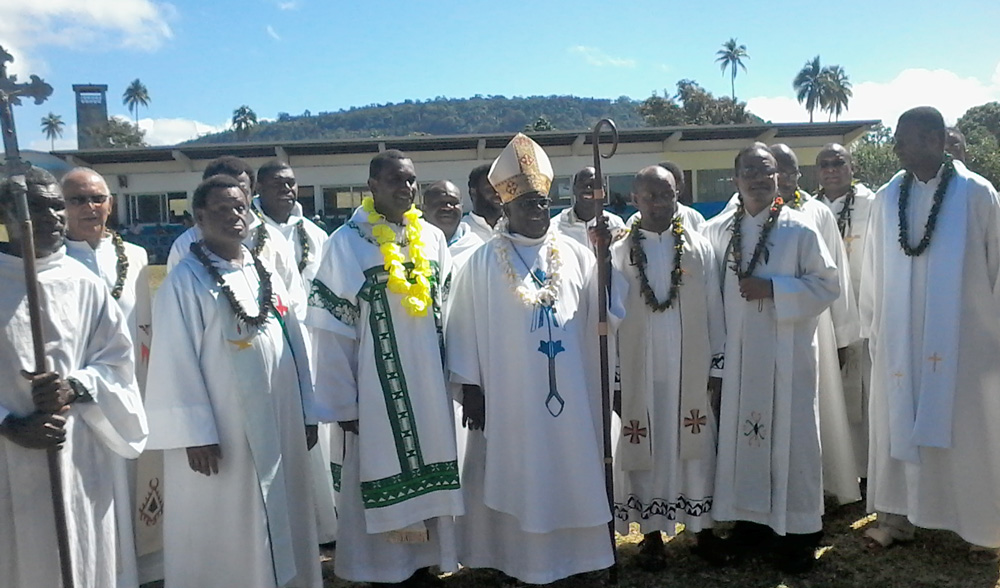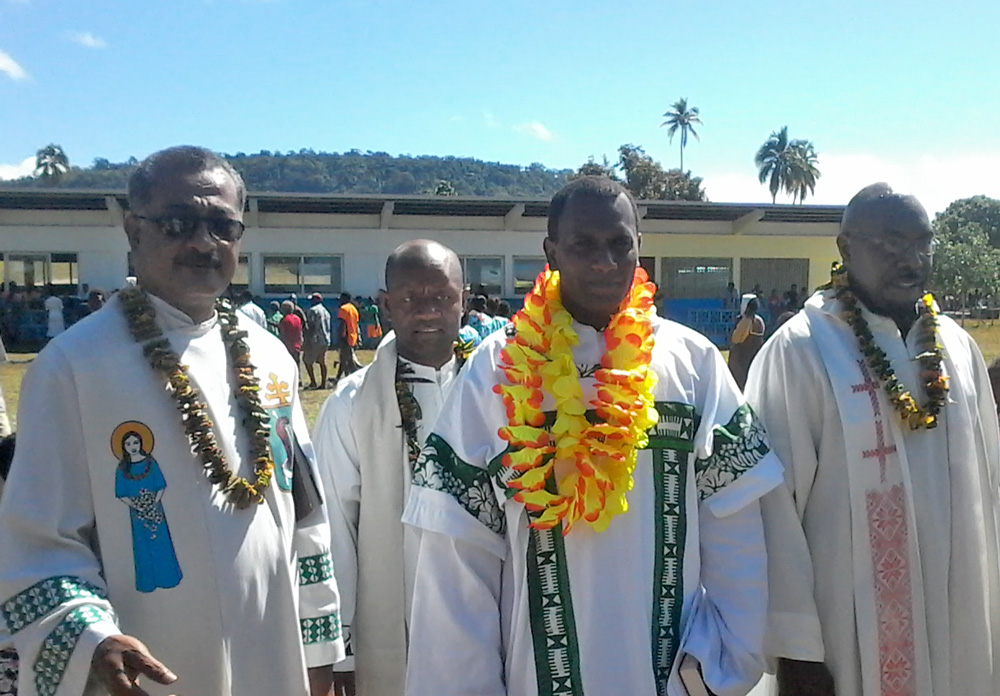 Paul Molbwet being Ordained as Deacon in the Society of Mary, at Port Olry, Santo, Vanuatu, on Sunday 24th July. Ordaining Prelate was Bishop John Bosco Baremes.
Paul began his studies in Marist College Suva, and completed his final four years of years of Studies at the International Theoloage in Rome. He returned to Oceania in July 2015, and has been doing Pastoral Work, both in the Parish, and in the School at Port Olry. He prepared for Perpetual Profession in Dec 2015 - Jan 2016, by doing the Inter-Congregational Hesed Program in Suva. He will continue his ministry in the Marist Community at Port Olry for the immediate future.
The day before: Fourviere Bi-Centenary, 23 July, he made his Perpetual Profession at Port Olry. Fr Susitino Sionepoe, Vicar Provincial, received his Vows.
Photos: Fr Richard Harui sm, member of the Marist Community in Tanna, Sth Vanuatu.
Pouebo and Balade handed back

On 01 July 2016 the Marists handed back to the Archdiocese of Noumea the parishes of Pouebo and Balade after 173 years of continuous service. The first Mass in New Caledonia was offered in this parish at Mahamate on 25th December 1848.

Pictured above: Three key people in the hand-over ceremony: Fr Vincent Vireial, of Hienghene Parish, receiving responsibility, Catechist Louis, resident in Pouebo, and Fr Steeve Oudodopoe sm who has cared for this parish over the last two years.