New novices
Two members of the Oceania Provice are amongst the latest group to begin the International Marist Novitiate at Eden, Davao, southern Philippines.
They areTimothy Hare (Solomon Is) and Iosefo Amuri (Fiji). We wish them well on this important stage of their Marist journey.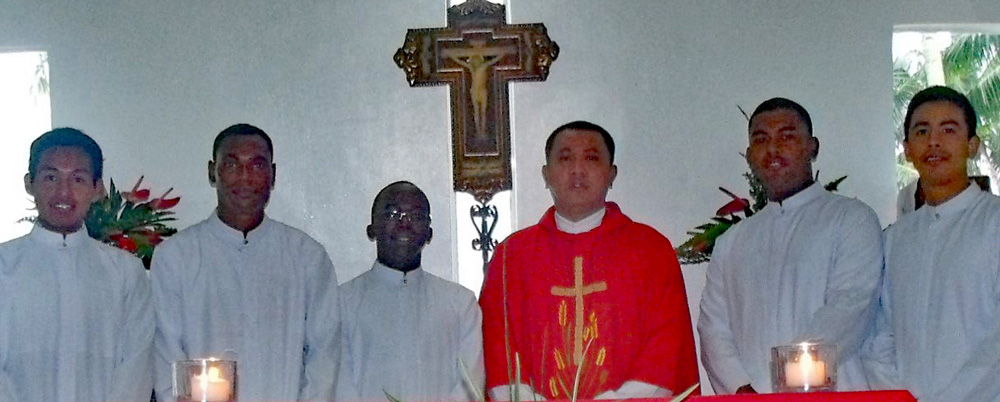 Novice master, Fr Fernando Ingente SM, with the five new novices: Jaime Perez Martinez (Mexico), Timothy Hare (Oceania), Christian Ngoura (Africa), Iosefo Amuri (Oceania) and Carlos Olivarez Flores (Mexico)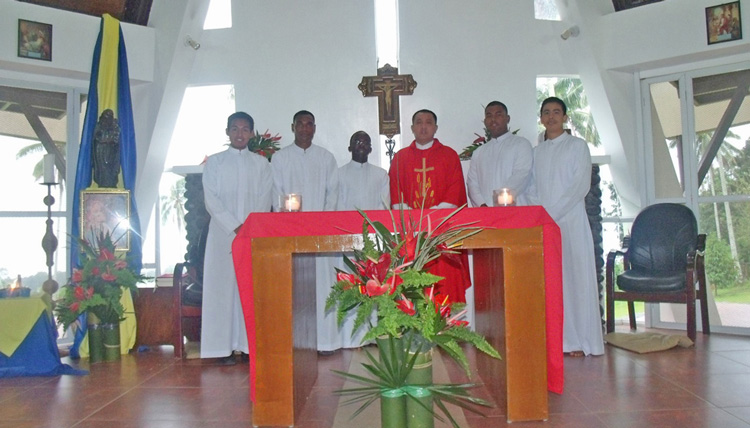 Two Oceanians professed in Davao
From the international novitiate in Davao, southern Philippines, novice master, Fr Fernando Ingente SM, reports:
'On the 18th January Cameron Mota (Oceania), Yves Tuma (Africa), Emil Kenewata (Oceania) and Hayden Powick (New Zealand) made their first profession in the Society of Mary at the Novitiate Chapel, Davao City. Fr Lionel Mechavez SM was the presider and Fr Christopher Ganzon SM was the homilist. The celebration was supported by the presence of the Marist families, and foster families of the newly professed. They left Philippines a day after the profession. Thanks for your constant support and prayers.'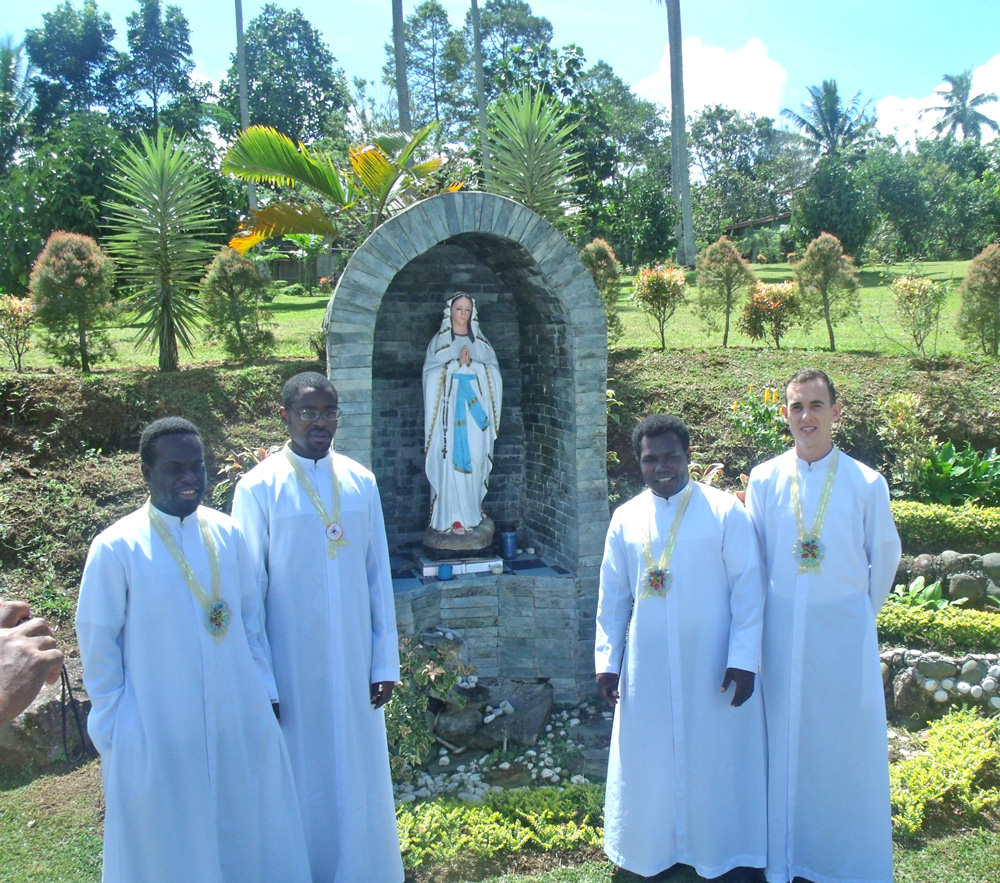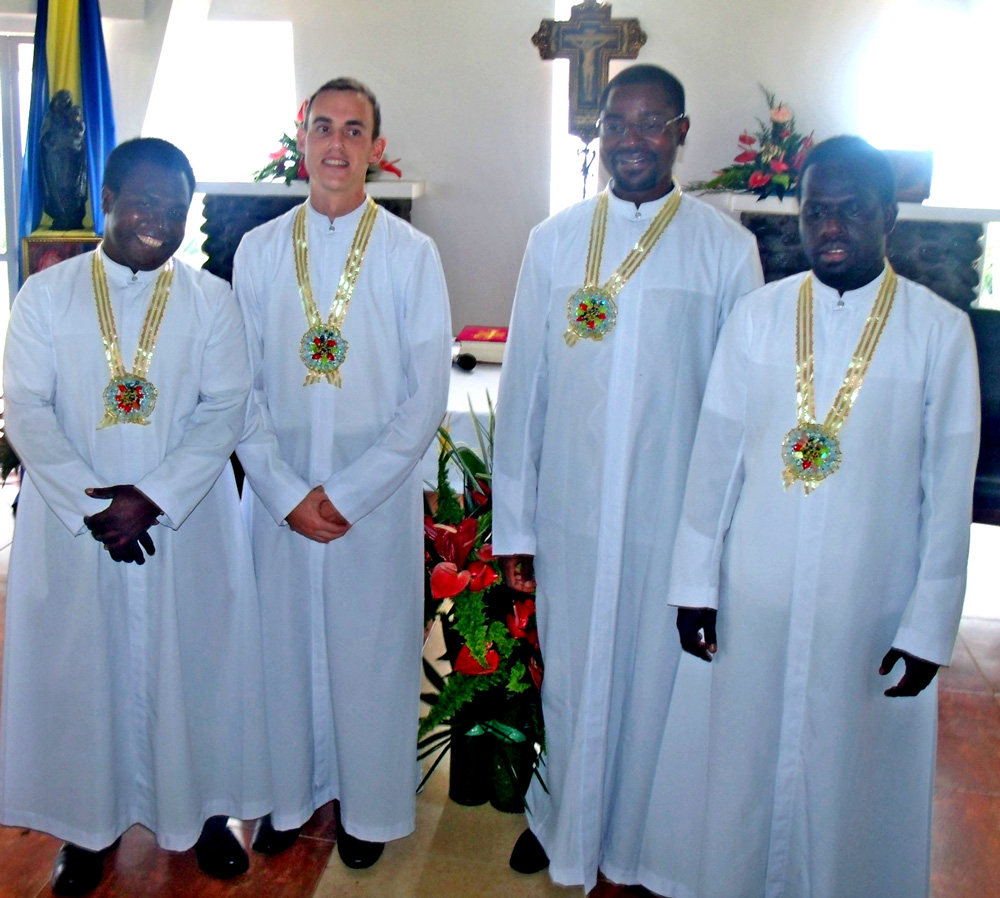 Newly-professed Marists at the garden shrine, from left: Cameron Mota [B'ville], Yves Tuma [Africa], Emil Kenewata [B'ville] and Hayden Powick [NZ],
General Chapter delegates elected
As the Provincial Chapter nears its end, elections have been held for delegates to the General Chapter to be held in Rome this year in Sep-Oct.
First elected was Setefano Malaele, Provincial-elect; second was Lutoviko Manu [Regional Superior of the Solomon Islands]; and third elected was Susitino Sionepoe [Vicar Provincial, and President of the Chapter]. Current provincial, Fr Ben McKenna, is an ex-officio member of the Chapter.
L-R: Susitino Sionepoe, Ben McKenna, Setefano Mataele and Lutoviko Manu.
Provincial Chapter under way
OMP's provincial chapter began on the evening of Sunday, Jan 08, at Pacfic Regional Seminary and Marist College, Suva.
The first full day was given over to prayer and reflection. Formal sessions began on Tuesday, Jan 10, with the election of officers and provincial's report.
[Photos: Fr Suni Halapio]
Fr Setefano Mataele - provincial-elect
On Jan 07, Provincial, Fr Ben McKenna, has announced: 'On the Eve of the Epiphany we have a new provincial-elect, Fr Setefano Mataele, who will be our 21st provincial of Oceania Marist Province.'

Fr Setefano is due to take up his role on Jan 01, 2018.
Fr Setefano was born in Longoteme, Tonga, 19-07-1968.
Primary Education: 1975-1980 Government Primary Schools, Tonga.
Secondary Education: 1981-1988: Takuilau College Tonga, FMS Brothers. He was Head Prefect in 1988, and Captain
of the first fifteen in 1987-88.
Teacher Training College, Nuku'alofa, Tonga, 1989-1991: Dip Ed.
1992 – 1999: Marist Formation, and Priestly Studies at Pacific Regional Seminary, Suva.
1994: Novitiate, Tutu, Taveuni, Fiji.
1997: Pastoral year: St Louis, New Caledonia
1999 : Ordained 29 December, Longteme, by Bishop Soane Foliaki sm
2000 - 2004: Teaching: Chanel College: Samoa. (Including Vice Principal and Bursar)
2005 - Formation team at Marist College
2006 – Study for MA in Pastoral Counseling and Spiritual Care at Loyola University, USA
2009 – Formation, Marist College, Bomana, PNG
2012 – 2017 Provincial Administration and is currently Provincial Bursar.